Date :

07/10/2021

Read:

6 mins
Beyond popular opinion, here is a list of questions you must ask before deciding to purchase a motorbike or scooter in India
On India's crowded roads and highways, where bumper-to-bumper driving is the bane of every car driver, owning a two-wheeler can be a relief. Not only is weaving through traffic much easier, but you can also find parking absolutely anywhere and travel short distances without spending too much money.
Here are the questions you must ask yourself when choosing the best two-wheeler in India for you…
1. Scooter or motorbike?
Scooters offer a more natural seating position, automatic transmission, easy gearless riding, increased storage space, lower prices and greater manoeuvrability, which can be beneficial for city driving.
However, motorcycles give you more control of the vehicle given the presence of a gearbox and are also preferred by bike enthusiasts who like to feel the power beneath them and hear the revving of a motorcycle engine as they ride, especially for long drives in the hills.
While there are no gender-specific rules with both genders buying vehicles that catch their fancy, scooters are generally the preferred two-wheeler for ladies.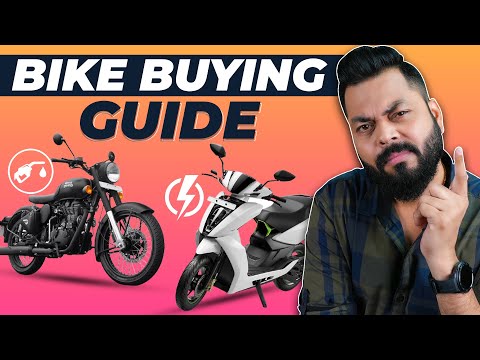 2. Budget- how much can you afford to spend?
Determine your savings, post-tax monthly income and monthly expenses. The remainder - besides a certain amount put aside as a safety margin - is how much you can afford to spend each month. Multiply this figure by the number of months you want to be paying for your two-wheeler (not more than 60) and that's the amount you can spend annually.
Also, keep in mind that you will own it for at least 2-3 years, and will also spend money to maintain it, in terms of servicing, repairs, insurance and fuel.
Related: 4 Things you didn't know about your two-wheeler insurance
In the list of top-selling two-wheelers in India shown above, a majority of them fall in the range of between Rs. 45000-55000. This is the average two wheeler price. This means that if you can spare this amount of money, you can afford a tried and tested two wheeler.
3. New or Used Two Wheeler?
This decision should be made based not only on your budget but also your comfort with riding.
If you are a first time rider, you should consider buying a second hand two wheeler scooter which you can later upgrade as and when you get more comfortable with riding. This way, in case you outgrow it too soon, you haven't lost much in depreciation.
If you are buying a second hand vehicle, be very particular about asking for all the right documentation and details. For a simple guide to buying second hand vehicles, click here and to know how to maximise the value of your used vehicle, click here.
4. Model and Mileage?
One of the most important factors to consider is the model of motorcycle or scooter you wish to purchase. Here are the various types of motorbikes and scooters you can choose from:
To ensure comfort, you must ensure that when you are sitting on it in stationary position, you can place both feet on the ground without losing your balance. The weight of the two wheeler should also be suited to your physical capacity.
Beyond that, you also need to consider mileage. 80 kilometres/litre is where most motorcycles start at,
5. Are you ready to make the purchase?
After you've decided which two wheeler to buy, you have to make it happen.
Thus, the next thing you need to do is complete the financial transaction. Here are some tips on doing that:
Visit more than one dealer: Nothing works better than looking unconvinced and walking out a dealership and saying, "let me think about it", so make sure you do that twice or thrice before deciding which dealer is giving you the best two wheeler price.
Make sure you take it for a test ride: If you aren't an expert, bring a friend along who can ride it for you, preferably over both highways and bumpy street roads.
Don't accept anything at face value: Make sure you ask for the break-up of the cost and understand every element, be it ex-showroom price, insurance or RTO expenses.
Feel free to negotiate: For instance, many sellers have been known to offer discounts if the payment is made in cash.
Related: Why you should get your two wheeler insured if you haven't already
6. Have you bought insurance?
There's no doubt that Indian roads are not particularly safe. In 2014 alone, there were 489,400 road accidents and 137,000 related death, with two-wheelers being the deadliest vehicles accounting for around 30% of these, with cars and jeeps following close at 22.7%.
And this is why two wheeler insurance becomes so essential – not only does it protect the lives and property you and your loved ones, it also mitigates the financial impact of damage or injuries caused to third parties.
Insurers usually give insurance as a part of the cost of the two wheeler, but it is important that you find out exactly what is covered and what is not- not only in terms of various riding situations, but also individual bike parts and insurance riders.
With the introduction of Long Term Two Wheeler Insurance, offered by insurers like ICICI Lombard, the process of getting your two wheeler insured has become hassle-free. With this policy, two wheeler owners don't need to renew their insurance every year and can now do so just once in three years. In addition, they also have the benefit of immunity to upward revisions in Third Party Insurance rates, which can lead to substantial savings. To know, click here.
Related: Here's how your good driving habits are going to be rewarded
On a side note:
You may have not considered this, but with fuel prices on the rise, and the need for protecting our planet all the more, take the option of an electric two-wheeler into consideration. While it may seem a bit over your budget, there are also some great options that could prove economic. And if you think about it from an investment point of view, you will realise how much more you can save in the long run. A quick charge, and you're ready to take on your day.
For a decision as important as buying your very own means of transportation, a little bit of research is necessary. Follow the tips above to ensure you get the best two-wheeler in India. And ultimately, choose what fits in right with you, taking time to evaluate. If you feel like getting yourself a pre-owned car, here are some things to keep in mind before buying one.